Do you have an airsoft team? Do you ever play airsoft in team? If you answered yes to either of these questions, it will be worth while for you to learn how an airsoft team is generally organized and what each specific persons job is. This way, you can learn the positions and take the  knowledge into account when planning your airsoft strategy. This article will give explain how to organize your team and dominate the playing field.
In this article
The Squad Leader
The Fire Team Leader
The Rifleman
Before you Start, Ask Yourself These Questions First.
One way to find out if you really be able to run a small Airsoft team is by asking yourself these important questions:
What is my real motivation for starting a new team? Take your time and find out the main reason of creating an Airsoft team.
Are there other Airsoft teams in my area which I can join? It is possible that no Airsoft teams are established in your area. This may be a good reason for starting an Airsoft team as long as those players around you are dedicated to play on a regular basis. Another good reason is when other teams play different style or have different values. But then I would try to join another team first instead of creating your own team. Joining another team expands your experience and you may find that it grows on you and even makes you a better player.
If other teams don't let you join, ask them why. They may perceive your maturity level or skill level to be insufficient. If that is the case, working towards joining a team will make you a better player and might be an easier task than start your own team.
As I was searching on the internet I found these kind of really good questions about motivation and starting an Airsoft team on Airsoft-Squared website, so credit to that site.
If you still want to create your own Airsoft team you may have a strong personality and leadership skills. Or do you feel the need to be in control of yourself and others to feel worthy or respect or admiration? Look inside yourself and be aware of your own strengths and weaknesses. If it only makes you feel good to be in charge then it may not be a good reason for you to start a team of your own.
The Squad Leader in an Airsoft Team
A common way to Organize a team is to have a Squad Leader, Fire Team Leaders, and Riflemen. Here is an example of how a 9 man team might be Organized: A Squad Leader, 2 Fire Team Leaders, and 6 Riflemen. Each Fire Team leader would have 3 Rifleman
The Fire Team Leader in an Airsoft Team

This is how things usually go. The squad leader will give the fire team leader a command and then the fire team leader will direct the men in his charge to complete the command he received. You will hardly ever see a fire team get split up. They are a unified team who's goal is to fullfill the orders of their squad leader. Fire team leaders also need airsoft experience and knowledge, but not as much as the squad leader.
The Rifle Man in an Airsoft Team

If it is your first time joining a team or you are new to airsoft, you are for sure going to be a rifleman. Even if you have been playing airsoft for a very long time, you may still be a rifleman. It is the rifleman's job to listen and obey his squad leader and fire team leader. To be a good rifleman, you need to be able to take commands and criticism from your leaders because they will likely know a lot more about airsoft then you. Without an Organized airsoft team, your chances of winning a game are severely hindered. But with a team that is unified, you will be able dominate at airsoft.
Thank you for visiting myapx.shop and if you liked this article I highly, highly encourage you to check out iamairsoft.com! This site is chalk full of Airsoft information from buying guides to product reviews. And of course if you like any of the products that you see there, please click on one of the BUY NOW buttons to make your purchase on Amazon. As an Amazon affiliate, they make a small commission off any purchase made through their website. This commission is how they can provide you with informative articles. You will not pay more on Amazon if you click through their website because the price is the same. For more great products check out myapx.shop/shop and for more information about the game, check out iamairsoft.com Airsoft Buyers Guides and Airsoft U!
Original Author: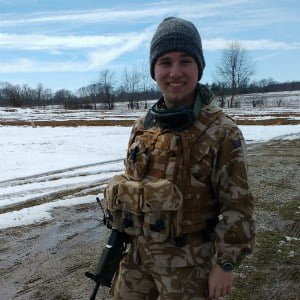 Noah Mains is a writer, an airsofter, and most importantly, he's stuck in the 80s. From Colt SMGs to David Bowie to brick phones, he has an acute appreciation for the greatest decade, and is more than happy to share his enthusiasm for the ALICE gear system (the superior loadout, of course) with anyone who'll listen