What makes an airsoft pack the best tactical backpack? Well, we're gonna tell you. If you spend a lot of time on airsoft fields, you know how much gear you need to carry. As well as your airsoft guns, this includes extra BBs, batteries or gas canisters, magazines, and accessories. Water and snacks are also a must to get through the day.
The best tactical airsoft backpack can hold all your gear. These packs are durable, with multiple pockets to organize everything for easy access. If you're looking for a tactical airsoft backpack, check out the sections below to see what's available.
Short On Time? Here Is The Bullet List
Types of Tactical Airsoft Backpacks
There are a few different types of tactical airsoft backpacks for airsoft to choose from, depending on your specific needs.
Hydration Carrier
This type of airsoft backpack is a small pouch that contains a hydration bladder, such as a Camelbak. Many models include shoulder straps, so they can be worn like a normal backpack. Others attach to a plate carrier instead. They often have some insulation to keep your water nice and cold. Some hydration carriers even include extra pockets or pouches for your other gear.
Buttpack
Also known as a tactical fannypack, this piece is a small pack that straps around your waist and sits at your back. They usually only have one storage compartment, with enough space for some spare BBs, batteries, and a few small tools.
Pistol Carrier
A pistol carrier is a large-size backpack. These are designed to be used at gun ranges, with internal pockets to hold your handguns, making it a great choice for your airsoft pistols. They usually have some separate compartments for magazines, tools, paper targets, and more.
Daypack
These are mid-sized backpacks with about 20-30 liters of internal storage. Some of them have internal and external pockets, though this isn't always the case. A lot of the daypacks also include MOLLE/PALS webbing, which allows you to attach some additional pouches and gear to the outside of the pack.
This type of pack is great for military simulation, or MilSim, events since you'll need enough food, water, batteries, and BBs to last an entire day without resupplying.
3-Day Pack
This is a large-sized backpack that holds between 40-75 liters of gear in the internal storage area. Many 3-day packs also include internal and external storage pockets. There may also be some MOLLE/PALS webbing for attaching extra pouches and gear to the bag's exterior.
Like the daypack, the 3-day packs are great for MilSim events, where you need to carry your gear, food, and water with you for a full day with no time to resupply.
What to Look for in a Tactical Airsoft Backpack
When checking out tactical airsoft backpacks for your airsoft gear, there are a few things to look for to ensure you have the right one to meet your needs.
Internal Storage Space
The internal area is where you'll store most of your gear, so you need to plan accordingly. If you prefer shorter events, you'll need some BBs, batteries or gas, water, snacks, and a first aid kit for accidents. All this will fit nicely in a 20-30 Liter backpack.
Longer events that last a day or more also require an extra change of clothing, plus full meals, as well as all the gear listed above. A larger 40-75 Liter pack is a better choice, depending on the event's length.
Dimensions
Your tactical airsoft backpack needs to be able to hold all your gear, no matter what shape the items you're packing are. If you plan to carry some secondary airsoft guns, check out their dimensions and buy a bag that will fit them comfortably.
Gear-rigging Webbing
Several of the tactical airsoft backpacks on the market include MOLLE/PALS webbing on the outside. You can use this to attach radio pouches, magazine pouches, and other gear. There some off-brand tactical backpacks that do have this webbing, though it isn't attached to spec, so your pouches may not fit properly.
Durable Construction
A tactical airsoft backpack needs to be tough, so be sure to get one that uses abrasion-resistant fabric. The higher the Denier number is, the heavier the material, and the more durable it is. This also adds some weight to the pack, so keep this in mind.
Comfortable Shoulder Strap
If you're carrying the pack all day, it needs to be comfortable. The straps need to be wide, padded, and ergonomic.
Waistbelt
A waistbelt is a must for larger packs. These transfer much of the weight from your shoulders, back, and spine onto your hips. This gives you more freedom of movement and reduces pain.
Best Tactical Airsoft Backpacks
The Camelbak is perfect for keeping you hydrated all day long. It includes a Camelback hydration reservoir with a flow tube and a spout. The reservoir and the flow tube are both insulated to keep the water cold, which helps cool you down as well. The spout use is one-handed, plus it includes a protective cover.
This small hydration carrier mounts right on your plate carrier or the MOLLE interface of your backpack. There are cinch straps to secure the water weight, which keeps you moving easily in confined spaces. It comes in both Coyote Brown or Multicam colors.
Pros:
Insulated
Lightweight
Easy to fill
Cons:
No extra pockets or pouches
The Maxpedition Proteus Versipack is a multi-mode buttpack that includes a stowable waist strap and a carry handle that allows you to use it as a standalone carry bag. You can also attach it to the MOLLE/PALS system on a plate carrier, battle belt, or full-sized backpack.
This buttpack is constructed of durable nylon and comes in both Khaki and Black. Unlike most buttpacks, this model includes three external supplemental pockets, so you have a total of 5L of space for organizing all your gear.
Pros:
Three external pockets
Durable
Versatile
Cons:
Best Airsoft Pistol Backpack
This "gun-range" backpack includes three handgun binders that each hold one gun and four mags. The pouch on top is big enough for green gas canisters, tools, BBs, or extra mags. There are also a few extra pockets for your other gear, snacks, or water. There's enough space in this backpack for a full day on a pistol loadout field.
It does have some flaws, though. The large boxy shape makes it hard to fit into smaller areas. Though it includes a waistbelt, it isn't as supportive as it could be.
Pros:
Multiple storage areas
Durable
Two-color options
Cons:
Boxy profile
Waist strap isn't very supportive
The 5.11 Tactical's Rush backpacks are highly regarded for their decent prices. They are constructed using 1000D fabric, which is abrasion- and tear-resistant, though this makes them heavier and a bit inflexible. They come in three sizes, the 12-hour, 24-hour, and 72-hour, so they are a great option for full-day games.
This model has great features, like the chest strap, back padding, and ventilation channels for increased comfort. There are cinch straps for securing the load, as well as the storage space and MOLLE/PALS webbing for all your gear. Though it has no water bottle pockets, it is hydration bladder ready.
Pros:
Comfortable
Three size options
Lots of storage space
Cons:
The Rush72 backpack is large enough for a weekend-long scenario event. This pack can hold your basic supplies, tools, meals, extra clothing, and portable shelter. The expandable shove compartment is big enough for a helmet or a submachine gun, too.
This model is made of high-quality 1000D nylon, which adds some weight and inflexibility, but is abrasion and tear-resistant for extra durability. It is hydration bladder-ready, plus has twin vertical tube pouches for a water bottle or a rolled tarp.
Pros:
Multiple color options
Large capacity
Solid construction
Cons:
Best Tactical Airsoft Backpack Final Thoughts
Airsoft events require a lot of gear, like your guns, BBs, accessories, and even some food and water. The best tactical airsoft backpack can hold all of these items. These backpacks are durable with varying capacities and pouch options for storing your gear, so you can keep everything you need with you at all times.
Thank you for visiting myapx.shop and if you liked this article I highly, highly encourage you to check out iamairsoft.com! This site is chalk full of Airsoft information from buying guides to product reviews. And of course if you like any of the products that you see there, please click on one of the BUY NOW buttons to make your purchase on Amazon. As an Amazon affiliate, they make a small commission off any purchase made through their website. This commission is how they can provide you with informative articles. You will not pay more on Amazon if you click through their website because the price is the same. For more great products check out myapx.shop/shop and for more information about the game, check out iamairsoft.com Airsoft Buyers Guides and Airsoft U!
 Original Author: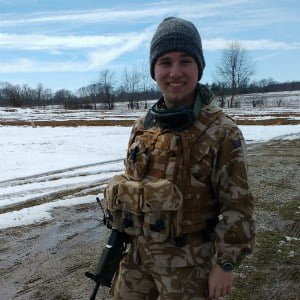 Noah Mains is a writer, an airsofter, and most importantly, he's stuck in the 80s. From Colt SMGs to David Bowie to brick phones, he has an acute appreciation for the greatest decade, and is more than happy to share his enthusiasm for the ALICE gear system (the superior loadout, of course) with anyone who'll listen.0 Hobart
Hurry Up! Offer ends soon.
Hurry Up! Offer ends soon.
Hurry Up! Offer ends soon.